WHAT IT'S ALL ABOUT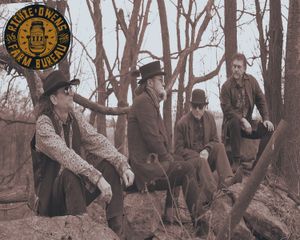 Richie Owens and the Farm Bureau's new album, Reconstruction, is a love letter to the sounds of classic rock—and more—from one of Nashville's most diverse and multi-talented artists.
New self-produced 11-song set of all-original material displays the singer/songwriter/multi-     instrumentalist's deep roots, canny sonic                                                                   instincts and emotional breadth.
NASHVILLE, TN—Even if you haven't heard of Richie Owens, be assured that virtually all of the Nashville artists you love have. Owens has a long history as a cornerstone in the music scene here, as a performer, songwriter, producer, engineer, multi-instrumentalist session ace and instrument designer. With the just-released Reconstruction—a reunion for his longtime band Richie Owens and the Farm Bureau—Richie is drawing on his musical past to write a new chapter in his already impressive history.
The 11 original songs on Reconstruction are a deep and abiding love letter to the sounds and epic qualities of classic rock—exceptional performances, great hooks, deep emotions and a palette of tones that stirs the soul. At times, these tunes echo the influences of the Beatles, Neil Young, David Bowie, Tom Petty and John Lennon's solo recordings, but there are also veins in the storytelling and arrangements that mine the traditions of Owens' family's roots in East Tennessee and the virtues of classic country' and the wealth of his own experiences and a mover and shaker in Nashville's nascent '80s rock scene and beyond. Altogether, the humanity and honestly of these performances captures the soul of an artist in renaissance, inspired by his material and firing on all cylinders to deliver the finest work of his career.
Owens, who produced and recorded Reconstruction at his studio, also played most of the instruments on the lush, artfully orchestrated album. He's re-joined by original Farm Bureau guitarist Bob Ocker and longtime musical partners John Reed, on bass, and Brian O'Hanlon, on drums. Ocker and O'Hanlon have played with Owens since the '80s, when they were both in Owens' alternative-rock band the Movement, and then were part of the original Farm Bureau, which Owens started in the early '90s as a way to update his family-instilled musical roots in country and bluegrass, helping to spearhead the Americana music movement in the process.
Echoes of a lifetime of absorbing great music and embedding its characteristics in his DNA abound in Reconstruction's tracks. "Heartache in the Lost and Found" straddles the colorful world of the Beatles with its big-boned melody and percolating keyboards, but Owens' harmonica lines add a weight and depth not unlike that of Bob Dylan and Bruce Springsteen. Nonetheless, the number's canny take on the insecurities of modern love is all Owens'. "You Just Don't Know About Me," with its sinuous lead guitar and powerful, driving chords walks the line between love, sacrifice, good and evil, casting a spell of dark beauty. "Stay in My Memories" is torn from his own heart—written after seeing his father retreat into himself under the curse of Alzheimer's disease. Its poignant, piano-and-vocal-driven arrangement underlines the pain and fear of loss, for both the victims of this cruel fate and their families. Ocker's heartfelt slide guitar brings every emotion in the song to life. "Having Bob back in the band means there's another musician playing leads and melodies, which lets me play the role of singer-songwriter—which I love—to the fullest," says Owens. And "How She Got Away" is a flashback to the original psychedelic era, its tale of surprise and loss framed by deft and stinging guitar fills over the hallucinogenic swirl of farfisa.
That's just a sampling. Owens is planning to release a video single for each of Reconstruction's 11 songs, through his Parlor Films. To learn more about Richie Owens and the Farm Bureau's Reconstruction, read his biography and personal track-by-track rundown in this EPK mailing, or visit richieowensandthefarmbureau.com for bios, dates, tours and more about Richie's impressive and still-blossoming legacy.
—END—


Richie Owens and the Farm Bureau can be found on facebook and instagram. The band can be heard on iheart radio and Sirius radio's "Outlaw Country," among others.
Richie Owens Washburn Signature Model